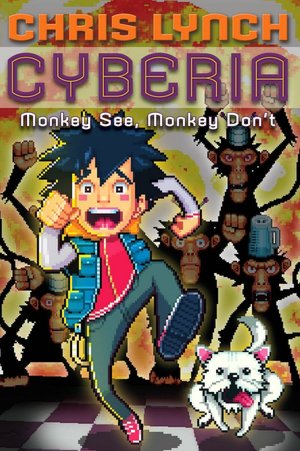 This is the second book in the series called Cyberia by Chris Lynch and we (IICS library) only have this one - we don't have the first book. Don't you hate it when that happens? Oh well. This is a difficult book to categorise in terms of possible audience as well. Is it a tweens book or is it Young Adult? I think it is more for tweens. Zane is a guy whose whole life is wired. He wears an anklet that connects him and his body to the technology that is part of everyone's life. He rarely sees his parents in the flesh but is connected to them through technology as well. In the first book Zane discovers a part of the world that is technology free and full of animals fleeing from the technology controlled world Zane and his friends live in. He discovers he can talk with the animals through an invention he makes himself. This makes him very attractive to the evil scientist and vet Dr Gristle. The second book begins with Zane coming to the end of a punishment period where he was isolated from the world and disconnected from all technology. He immediately discovers that Dr Gristle has made huge progress towards controilling animals. Zane's own dog has come under the evil Doctor's influence. Zane becomes determined to free them from the Doctor's manipulations.
A futuristic novel which causes the reader to think about how much we want technology to invade our lives. It is light hearted in tone and the animals bring an interesting range of characters and foils into the story line.
Chris Lynch has written book three in the series already, Cyberia; Prime Evil. Here is the
Teen reads review
of the first book. Kids World
Review
of the first two books.