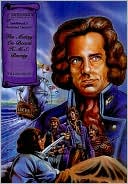 We are building up our graphic novel collection and what better way to do it than to use classic stories. We have some of Shakespeare's plays in Manga. We have other popular titles such as Stormbreaker in graphic novels and I have just ordered an ebook graphic series of Hitchhikers Guide to the Galaxy.
I read this particular novel because we were wondering whether to put it into the primary or secondary graphic novel collection. It is a very simplified version of William Bligh's account of the mutiny. It is well illustrated and the frames and flow of the graphic novel work well. It is so simple that it will indeed be added to the primary collection.
I have not read this Classic before so I do not feel qualified to review this graphic novel in terms of the original story line. I think I will read another Saddleback Illustrated Classic that I am more familiar with to compare directly. I do like this method for getting the story to students and those who find it memorable I am sure will seek out the full version. I need to read up some research on whether readers do transfer on to other print forms of texts once having read the graphic novel.
Barnes and Noble review