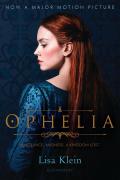 You know I love adaptations of Shakespeare's plays as novels. Lisa Klein seems to enjoy writing them and she does it so well.
Ophelia grows up in the confines of the royal castle. Her father is trying to curry favour with the King and when the Queen is looking for a new lady-in-waiting he offers his daughter's services. Ophelia quickly becomes one of the Queen's favourites and she is asked to read aloud her favourite books, some in secret as they are romances. During this time Ophelia sees more of Prince Hamlet during his visits home from his studies in Europe and they fall in love. Guarded by Hamlet's best friend Horatio they conduct their romance in secret.
In amongst all this romantic secrecy more treacherous works are happening in the palace. The King mysteriously dies and his brother becomes King and marries the Queen, Hamlet's mother. Hamlet returns to Denmark, suspicious and troubled. Ophelia and Hamlet secretly marry. Their relationship cannot be openly acknowledged as there seems to be danger at every turn. Hamlet suspects everyone, including Ophelia's father, who he kills when he finds him in the King's private rooms. Hamlet is sent away and Ophelia is left mourning her father, trying to placate her brother who is bent on revenge and wondering whether her own life is at risk. She is forced to make the bravest decision she has ever made and with Horatio's help she executes her plan - just in time.
I enjoy the way Lisa Klein takes the plays Hamlet and Macbeth and creates a rich world in her novels. These novels are a wonderful way to enhance the teaching of Shakespeare. They add depth and I can see how students would have much fuel for discussion and thought reading both.
Review from
Teen Reads
Lisa Klein's
own website